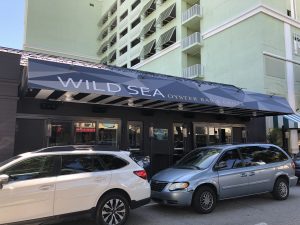 South Florida's weather can be very unpredictable and hurricanes are always a possibility. With hurricanes come really strong winds and that can potentially be very damaging to your business shade structure. You want to keep your business as secure as possible in the event of a hurricane because damages can be very costly and set back productivity. Here are some tips to help you prepare your shade structure for a hurricane.
Considerations
You want to consider all of your options before making the final decision of which shade structure. The benefit of having a structure that retracts is that you can easily pull it back if you hear that a hurricane is supposed to be approaching. However, there are some types of stationary awnings that are sturdier than the retractable option. Though they will be sturdier, it is best to store the fabric cover of a stationary structure to keep it protected in the winter.
How to Prepare
For stationary fabric shade structures, you'll want to remove the fabric cover to prepare for an upcoming hurricane. If you are doing it yourself, use a ladder so that you can cut the rope tied around the frame of your structure. The awning rope will need to be replaced after the storm, so you may discard the rope once you remove the cover. After this, you can either slide the cover off of the track and remove it or roll it to the top of your structure and secure it. Be sure to store a removed cover in a safe, dry place.
A retractable shade structure can't be removed the same way as a stationary one. Instead, simply pull back  the structure either manually or with a remote if it's a motorized structure.
Metal shade structures that don't use fabric do not require any preparation for hurricanes. Those materials are known for their durability and should hold up against strong winds.
Contact Hoover Architectural Today for Your Business Shade Structure!
Hoover Architectural is dedicated to making sure you receive the best quality shade structures. We manufacture all of our products with the best precision and care. We have two locations in South Florida and use innovative technology for all of our structures. For more information, visit our website or contact us at one of our South Florida locations!